It is a job with little recognition, long hours and a constant battle to stay ahead of the news cycle. But it's also been said that no one understands college athletics like a sports information director.
"Simply put, I enjoy working with young people who are pursuing their passions and their dreams," said Michael (Mex) Carey, assistant athletic director at Georgetown and the latest in a line of sports information officials that span over 80 years at the Hilltop. "It is my job, and the job of those people in my office, to promote those accomplishments and activities, both on and off the field, in the best way possible."
Balancing the interests of promotion and publicity with the needs of disclosure and discretion, Carey and his staff not only deal with the needs of the working press to cover Georgetown's 29 intercollegiate sports, but increasingly a worldwide audience of fan and foe alike, a dimension completely unforeseen as little as a decade ago. In a time of unceasing change, they are heirs to a tradition which has transitioned through a number of changes in Georgetown athletics, and within the profession at large.

From its earliest days, the story of intercollegiate athletics was told on the pages of newspapers. With as many as five dailies competing for readers in the Nation's Capital, a rough and tumble account of a college football game, accurate or not, was sure to sell papers.
By the mid 1920's, radio had arrived in a big way, bringing stories of college football nationwide. Local columnists regaled their readers with tales of young men at faraway places like Stanford, Alabama, and Illinois. Few outside the Midwest ever saw Red Grange play, yet he was a larger than life star in the Eastern cities. Schools like Georgetown now had competition for coverage in their own local papers.
At first, colleges saw the need for "press agents" to drive newspaper coverage as a little unseemly. But when Harvard and Notre Dame added publicity directors to manage the growing attention given to their teams, other schools followed suit.
The first recorded hire to manage athletic coverage was at Georgetown in 1933, when moderator of athletics Rev. John Kehoe S.J. appointed Rome Schwagel as its first "director of sports publicity". A recent graduate of the College who wrote for The HOYA and served as a manager for the school's basketball team, Schwagel was considered knowledgeable about the teams and young enough to take on the job as a seasonal pursuit. Part-time employment was nothing new to Georgetown athletics (the Hoyas' first full time head coach in men's basketball did not arrive until 1966) and a part-time role for sports information would be a common theme for most of the next 35 years.
"Rome graduated in 1933 and immediately assumed his present occupation, experiencing a little difficulty at first because of his youth and the newness of his contacts," said a contemporary feature. "Since then, he has developed rapidly and is today one of the best publicity men in the business."
Publicity was not Schwagel's first calling, however, and when he completed his graduate studies, he accepted a job offer with General Motors. But with Georgetown's football program ascending nationally, Schwagel was hired back in to manage the publicity surrounding the school's nationally ranked football team, and two years later was named the school's athletic director, shortly before being drafted into military service.
Schwagel returned to the athletic director's chair after the war, serving through 1948. After Georgetown, Schwagel went into business in Keedysville, MD, later serving as that town's mayor and a county commissioner.

The needs of publicity for the Hoyas' football program remained strong, however. After a season enlisting a Georgetown professor, John Shields, to handle publicity duties, the athletic department found a recent grad ready to take on the task.
For Bill Rach (C'46), publicity was in his blood.
Over a forty year career as a publicist, promoter and entrepreneur, Rach learned his trade at the Hilltop. A writer for The HOYA and College Journal while an undergraduate, Rach also learned the value of promotion, getting the Jesuits' approval to start a college orchestra, then booking the ensemble at numerous dances all across wartime Washington. Polite yet persistent, Rach had all the qualities of someone ready for the task at hand.
With no room for an office at Ryan Gym, Rach began his work in the basement of Copley Hall, armed with a typewriter and a telephone. That was more than enough for the 22 year old Chicago native, who worked the phones to secure All-America honors for Georgetown athletes in the press and marshal national publicity for the Hoyas in football, where the Hoyas earned an invitation to the 1950 Sun Bowl despite a tepid 5-4 record. Rach was the first publisher of annual media guides at GU, giving visiting sportswriters historical data on the program where little had existed before.
Rach was in soon in demand as a sports publicist. In 1951, he was hired to become the full time publicity director for the Professional Golfers Association. Following eight years at the PGA, Rach became an entertainment promoter, agent, and publicist, a familiar face at various Chicago sports and entertainment events until his death in 1994, with a keen eye for promotion that began in his formative years at Georgetown.
Georgetown appeared to find a worthy successor in Frank Prial (C'51), who was named to the publicity director's post following Rach's departure. Military service intervened, however, and Prial left Georgetown only a year later. Following the war, he became a reporter for the Newark Evening News, New York World-Telegram, and Wall Street Journal, later serving as the much-acclaimed wine columnist for the New York Times from 1972 through his retirement in 2004.
"You don't have to be a baseball fanatic to read a story about a great player or a particularly exciting game," Prial once said. "You should not have to be a budding enologist to enjoy reading about wine."

With the loss of intercollegiate football in 1951, athletic publicity was on the wane at Georgetown. The job was now limited to basketball season, with plenty of free time for an applicant to pursue graduate studies or a part-time job. One of these applicants, Bil Gilbert (F'51), saw the position as an opportunity to develop the writing skills that served him over a career as one of the nation's most accomplished sports journalists.
For the next five seasons, the basketball publicity job allowed Gilbert the freedom to write sports and indulge a lifelong passion for the great outdoors in the off-season. Both suited him well.
"Early on I thought this writing thing was pretty good...I wanted to do what I wanted, when I wanted, where I wanted, with someone else paying for it. And writing seemed like the best idea," Gilbert said in a 1986 article. By then, Bil Gilbert was well known across the parade of long-form journalism, from Time to the Saturday Evening Post, the New York Times to Esquire. At his death in 2012, Gilbert had written over 350 articles and published ten books. He traveled extensively for Sports Illustrated, filing stories as varied as the challenges of Title IX in NCAA sports, a high school football game in Mississippi, or a canoe trip along the Susquehanna River.
In 1980, Gilbert wrote a 6,900 word feature in Sports Illustrated on Georgetown basketball, titled "The Gospel According To John". Gilbert had long seen the program up close, but gave its 39 year old head coach the opportunity to introduce himself to a national audience.
"What I want, is everything," coach John Thompson told Gilbert.
"I want the talent, a kid who can run and leap and shoot, but I want him to have enough intelligence, discipline, character, or whatever, so that he'll walk when I tell him to, run when I want him to, pass if that's what I want. Without talent, all the character in the world won't do it, but talent alone isn't enough. There are great individuals and teams with lots of talent who don't win. I tell the kids that it's as though we're putting on a play. I'm the director. I'm going to pick the script, and I'm going to give them their roles. They're the actors. Their job is to learn those roles-that's what practice is about. When we go out on the court, that's our stage. Out there they're supposed to perform as we practiced. I don't want anybody making up new lines, putting on their own act."
"For now, though, Thompson remains at Georgetown," Gilbert concluded, "giving the school the basketball success it wants, getting what he wants from the young men he has recruited, giving them what he convinced them they wanted from the bargain: hard work and a good education. And a little more. Maybe a lot more."
Gilbert's 1957 departure from McDonough Gym marked a logical end to the era of publicity directors at Georgetown-by this time, there wasn't much to publicize. But as more sports arrived on the campus scene, and one in particular, the need to keep the media informed returned in a big way.

For the next four years, Georgetown had no dedicated resources to media relations and sports information. Statistics were maintained by student managers.
In November 1961, Dick Williams was a 17 year old freshman from Prairie Village, KS, cut from the freshman basketball team and now writing for the school paper. Georgetown took notice.
"I wrote profiles of all the incoming scholarship players for The HOYA," he said. "Jack Hagerty (athletic director) and the Rev. Robert L. Hoggson (faculty moderator of athletics) liked my work and sent me to see the legendary newspaperman, Jim Fitzgerald, who was university PR director. He liked me and hired me as Sports Information Director. They gave me an office [and I] shared a secretary with Coach O'Keefe (Betty Underwood, later to be women's hoop coach). Most important, they awarded me a half athletic scholarship."
Now known in the industry as a sports information director ("SID"), the role was tasked with writing press releases, phoning in stories to the wire services, developing news for out of town papers, maintaining statistics for a growing number of teams, and most of all, building good relations with the local press, all in what was still a one man job.
"Technically, I worked from 3:15 to 7 p.m., but the job consumed me," Williams said.
There was no time for formal training. "I had spring break coming up at my home in Kansas. I called the Kansas SID and told him my situation and asked if I could visit and learn," he recalled. "He agreed and I spent the week driving to Lawrence and watching him handle the press hordes over Gale Sayers. He had a staff of four back then."
Williams' predecessor, Bil Gilbert, was a writer in the Washington area but as Williams recalls, he wasn't very helpful. "He was a very shy guy and I could never get him to open up and help me. I always found it amazing that such an introvert could be such a great reporter."
For the next three years, Williams balanced academics with the responsibility of keeping the nation informed about the Hoyas, including the basketball team's upset of #1 ranked Loyola-Chicago, the school's remarkable success on the indoor track circuit, and the revival of intercollegiate football. Williams helped leverage a considerable amount of local coverage about football's return at Georgetown, to the consternation of Rev. Hoggson and many of the University's Jesuit leaders.
Sports information was also about maintaining good relations with the press.
"Each of the three beat reporters had his own bottle of preferred whiskey in my file cabinet," Williams recalled. "They drank it when they came to campus and I delivered them drinks in the press box as they wrote. Mr. Fitzgerald told me how to do that."
"I'm a post-script [in sports information], but it sure was fun and led to a terrific career in radio, television and newspapers," said Williams, who went on to a career as a reporter, columnist, and later the executive city editor at the Atlanta-Journal Constitution. Now a newspaper publisher in suburban Atlanta and the host of a long-running public affairs program, "The Georgia Gang", Williams has never forgotten where an opportunity at McDonough Gymnasium led him.
"I think that experience made me the fast and relentless writer I became."

By the fall of 1964, Williams refocused on his degree plans and Georgetown went to a local journalist for its next hire. For Russ White, he knew Georgetown basketball about as well as anyone outside the Hilltop could have.
"My first Georgetown game was at the Armory in 1950," he recalled, "and my father took me to the first game ever in McDonough Gym versus Fordham." A Washington native, White attended Gonzaga College High School alongside many of Georgetown's basketball stars of the 1950's, and knew Tommy Nolan and Tommy O'Keefe when each taught at the school.
White joined the Navy after high school, and upon his return landed a job at the Washington Daily News, one of the city's two afternoon dailies, as a beat writer for the Washington Senators. The Georgetown job was largely during basketball season, so it did not conflict with his work during baseball season.
He recalled the efforts to print the basketball team's media guide, on a budget better suited to a mimeograph machine. A call to the University's print shop sealed the deal, but it still went over budget. "We got some coeds to sell the remaining copies at home games to make up the difference", White recalled.
Much of White's promotional efforts supported the men's basketball team, in good times and bad. He was there as Sports Illustrated ranked the 1964-65 Hoyas in the Top 20 for the first time ever, but the team fell out of contention and national attention waned. A year later, a possible NIT bid fell short; perhaps a result of bad press.
"I was there the night of the NYU game," said White, citing a famous 1966 game at McDonough Gymnasium where some ham-acting from the gymnasium's "Animal Section" was perceived as an anti-Semitic slur against NYU. "It didn't go anywhere until Bill Conlin [of the Philadelphia Daily News] heard about it and ran with it." Despite a 16-8 record that season, the Hoyas were not invited to the NIT.
In his years with the Daily News, and later the Evening Star, White became one of the nation's leading baseball writers, breaking the story of Ted Williams' hire by the Senators as its new manager in 1969, while the other local papers wouldn't acknowledge they'd been scooped. When the Senators left town in 1971, White covered the Hoyas during the early years of John Thompson, and served as the beat writer for the Washington Capitals at the Star from 1974 until that paper folded in 1981.
While on the Georgetown beat for the Star, White spotted a future Georgetown trademark on the new coach's desk.
"I told [SID] Fran Connors he ought to do something with the deflated basketball," said White, now retired following a number of years as a columnist for the Orlando Sentinel. The following season's media guide featured the basketball on its cover.
Russ White never went to college, but his experiences at Georgetown were a step along the road of a memorable career in sports journalism. "It was always great fun there," he said. "I loved my time at Georgetown."

By the late 1960's, press information for Georgetown's athletic teams was reassigned under the authority of the University's public relations department. Two years after White left Georgetown to cover baseball full-time, the University hired Bill Taylor, a former sports information director at Geneva College, as its new SID in the summer of 1968, but much of his time was spent on University-wide public relations.
Taylor's tenure at Georgetown was brief. He worked on the annual media guide and prepared game releases, but little else was published about his time at the University.
In 1969, Taylor left to pursue a further position in public relations, and Georgetown took out an ad in the trade papers seeking a successor.
Answering the ad: a 26 year old Baltimore County native who was teaching high school and writing sports in western Pennsylvania.
"I didn't have any idea what a SID was when I lived in Pittsburgh, taught high school English and worked part-time on a six-times-weekly newspaper at the time," said Keith Moore, who served as Georgetown's SID from 1969 through 1972. "Then I spent an hour and a half with Dean Billick, who was Pitt's SID (following the legendary Beano Cook), and when he told me what he did for a living, I thought he had the greatest job in the world."
"I was hired by Art Ciervo, director of public relations, as a full-time sports information director," Moore said, becoming Georgetown's first full-time hire. "Finding a boss who came from my own part of the country made it much easier for me to get the job and to adjust to the new activities."
"My office was in McDonough Gymnasium so I was physically located within the epicenter of Hoya athletics among the coaches offices and locker rooms. In [the summer], I was given hometown news releases to write on behalf of "straight" public relations in the Healy Administration Building's offices."
Like his predecessor, the public relations office still held responsibility for Moore's work. "I had to take my typewriter-produced sports release drafts to Art for his approval and for the secretary's retyping and distribution through our mailing system," he said. The sports information role had now expanded beyond basketball, with regular demands for the school's football, baseball, track, and other teams.
"My favorite coaches to work with were in football (the late Mush Dubofsky and Scotty Glacken) and track and field (Frank Rienzo). Events that stuck out in my memory included indoor football games at Atlantic City, the Penn Relays, the Dad Vail crew races, and the Hoyas' appearance in the National Invitation Tournament at Madison Square Garden."
Through no fault of his own, coverage of women's sports received far less attention. "I had absolutely nothing to do with women's sports, including basketball," he recalled. "I certainly never had to keep their records. I never did a profile or hometown release on a woman athlete while I was at Georgetown, as far as I can remember."
"I traveled with the [men's basketball] team for road games and poached off the home team's stats crew," he said. "On road game occasions, while I was phoning the scores of the games to the news media, the team bus would wait for me. On several occasions they failed to wait, usually when we lost unexpectedly."
In the spring of 1972, friction between athletic director Robert Sigholtz and basketball coach Jack Magee spilled into the local papers, leaving Moore in the crossfire. Both eventually resigned under fire, and Moore served on the committee that eventually selected Sigholtz's successor, Frank Rienzo. A new basketball coach followed, but Moore left Georgetown later that summer following a rocky start with new coach John Thompson.
"Early in our relationship, I heard that he was fuming that the SID did not report to him," Moore recalled. "The last person on earth that he cared about was a SID who reported to a University PR Director in Healy."
"There was the night I watched the six o'clock sports on TV and saw an announcement that three of John's high school basketball stars at St. Anthony's were coming to Georgetown. I thought that might have been something JT would have shared first with his SID, but Thompson chose not to."
"I left Georgetown for another Jesuit institution, Loyola University of New Orleans," he said. "It was slightly more money, an exciting new venue in New Orleans, and a step up in the academic administration. This move was ironic, though, since I had spent almost every waking hour for the past year or two focusing on sports information -- and the university I went to wanted me to head up their public relations office…It was not a good fit, but I learned a lot during the year I was there. I learned that I could actually promote academic institutions in fields beyond sports information."
"My three years at Georgetown were wonderful for me, but my wife (by then with three children to raise) spent too much time alone and with too little money to support the family. After John Thompson arrived in 1972, I had to admit that my job was no longer much fun and it was a indeed becoming a financial challenge to overcome."
Over the next forty years, Moore became a leading figure in higher education public relations, serving as a communications director at Virginia Tech, the vice president for university relations at Carnegie Mellon, and the senior vice president for communications and marketing at the Council for Advancement and Support of Education (CASE).

Georgetown's next hire was not only a former SID, but a second generation one. Fran Connors was a recent graduate of Providence, where his father had once served as that school's sports information director. After a year as the SID at the Coast Guard Academy, he joined the Georgetown staff following Moore's departure. In a 1972 article, Connors took an expansive look at what the job could entail.
"I'll be kind of a public relations journalist trying to bring publicity to the athletic department. But I'm not only concerned with relationships external to the University," he told The HOYA. "I see my role as that of a bridge builder between the Athletic Department and the faculty and students, as well as between the University and the community, to develop an honest rapport that will enhance the image and integrity of the University."
Connors' hopes for rapport were tested by the lines of authority within the University, which still positioned Sports Information through the public relations wing of the administration. The growth of men's basketball not only increased the interest of fans, but the interest of newspapers, radio, and TV journalists eager to cover the Hoyas and its young head coach.
Everyone wanted more of coach Thompson's time, and for the most part, Thompson wanted little or none of it, making Connors' job a challenging one.
Fran Connors left Georgetown in the summer of 1977 for a post at Philadelphia Magazine and was soon hired by the National Football League.
After a long career in public relations, Connors serves as the general manager for the Dad Vail Regatta, the largest intercollegiate rowing event in the nation.
Connors' successor, John Blake (F'77), filled in as an interim hire until taking the job full time later that fall. But Blake was also hired away, joining the media relations staff of the Baltimore Orioles in 1979 and later holding executive media positions with the Boston Red Sox and Texas Rangers, currently serving as the Rangers' executive vice president for communications.
What was once merely local attention on the basketball had become regional and soon, national attention, and this took its toll on the sports information position. One person could not do it all.

"The role of the Georgetown SID in the early 1980's was to take care of men's basketball and oversee an assistant who took care of everything else," said Jim Marchiony, who led the Georgetown office during the formative years of the Big East from 1979-83. Marchiony, a St. Bonaventure grad and former sports information director at Iona, was given the office's first full-time assistant with John Iamarino, now the commissioner of the Southern Conference.
"Georgetown basketball was good for a few years before I arrived, but it really exploded as I was arriving," Marchiony said. "ESPN was born the month after I arrived, and Georgetown had several games on ESPN right from the get-go. A year later John Thompson recruited Patrick Ewing and a bunch of other great players, and away we went.
"It was just after the Watergate era, and reporters were changing how they covered athletics. It became much more critical than perhaps it had been; I had to learn what information to share and what not to share," he said. "I also learned that John Thompson is extremely smart; he was way ahead of the curve on many issues, including how to deal with the media."
In 1983, Marchiony left Georgetown to become the director of media relations for the NCAA. Steve Hurlbut, a Lafayette grad who had been the SID at Juniata College before joining the GU staff in 1981, was promoted to director. In his years in the SID office, Hurlbut had a front row seat to a golden age of Georgetown athletics.
"The three final fours in [a] four year period was definitely a highlight, as was the Georgetown vs. Virginia (Ewing-Sampson) game," he said. "The U.Va. game was the biggest college game since the Alcindor-Hayes game, also, it was a harbinger of things to come, as it was the first significant sporting event to be televised solely on a cable network."
In addition to basketball, Hurlbut recalled the accomplishments of the Georgetown track and field program, NCAA titles for women's tennis, the resurgent baseball program under coach Ken Kelly, and "last but not least, Jim Corcoran's All-American exploits as defensive back, kicker, kick returner, and punt returner."
"By being exposed to so many teams and individuals who competed at the highest level, I gained a deep understanding and appreciation for a wide variety of sports," said Hurlbut, who later served as assistant athletic director at the University of Pennsylvania, the associate commissioner of the Northeast and Atlantic 10 conferences, and vice president for production and programming and general manager of the MountainWest Sports Network.
"The entire athletics department morphed from a mom and pop organization to a much more organized and efficient business during the Ewing era...being part of that growth and witnessing the changes first-hand helped me immeasurably."

In 1983, responsibility for men's basketball was split from the traditional SID model into a role known as the "sports information director for men's basketball", a significant change in media relations at Georgetown.
"When Jim left, a decision was made to promote me to SID and to hire someone to work full-time with the men's basketball program," Hurlbut said. "Many veteran SIDs were interviewed, but in the end, there wasn't mutual interest, so the search continued."
One of those interviews was a former Georgetown SID, Russ White.
"I was brought down to McDonough for the interviews, but when I learned [about the role of the job], I remarked that it sounded more like a cop than an SID," said White, who said he realized he had just talked himself out of the job.
Thompson's first hire was Zachary Smith, a local PR spokesman who was a former student of Thompson at St. Anthony's HS. He lasted less than a year. "[A] nice man, but overmatched, particularly considering the intense media attention the team was receiving," Hurlbut recalled.
The next hire was an unlikely choice, but one who became synonymous with Georgetown basketball for the next quarter century.
Bill Shapland (C'77) never played college sports. His undergraduate years at Georgetown was spent as an English major and with campus theater. He was introduced to McDonough Gymnasium through a part time job in the equipment room as a means to pay for graduate school.
"If someone had asked me, I would have said that I was more likely to walk on the moon than work here," said Shapland in a 2004 article.
Thompson knew of Shapland from his work within McDonough's staff, and took a bold departure from the expectation that the head coach needed a seasoned media relations expert to manage his growing and often times controversial reputation. Instead, Thompson offered the job to the 28 year old equipment manager.
"I was forced into a learning crucible," Shapland said. "I came in without any background in sports information or public relations, and was [now] representing the defending national champions during Ewing's senior year."
"Based on how our program was, it was not an easy job that he had," Thompson said. "I wasn't the most social person in the world to work with, and he had to deal with that."
"With the build of a linebacker, Shapland navigated a job that required him to enforce Thompson's locker room rules and write time sensitive news releases with equal force," wrote HoyaSaxa.com upon Shapland's untimely death in 2013. "His theater skills helped him keep a stoic demeanor when writers peppered him for a scoop, and over three decades with the Hoyas, Shapland's ability to control the flow of information was legendary, with a track record of keeping secrets tighter than some inner circles of the Pentagon."
"Bill really was very special to me because of the time that we spent during tough times, as well as good times," said coach Thompson to the Washington Post. "A lot of time he took the blame and responsibility for a lot of things to buffer me. That meant a lot to me. Bill was not just somebody who worked with me; he was my friend, and he protected me."
When Hurlbut left in 1988, Shapland assumed responsibility over the overall sports information office while maintaining his dedicated role for men's basketball. In 1996, Shapland's role was retitled as the school's senior sports communications director.
During Shapland's tenure, the sports information office became an incubator for many future leaders in the field. Emilie McCarthy (C'83) had a lead role in a number of sports before going to Penn. Alex Martins joined the staff from Villanova, and was later hired by the NBA's Orlando Magic; today, he is that club's chief executive officer. Bill Hurd arrived from UConn and spent seven years on the Georgetown staff from 1991-98 before becoming an assistant athletic director at Virginia.
"Shap's way was not always the preferred method by reporters' standards, but he always protected the Georgetown brand, the Georgetown staff and mainly the Georgetown student-athletes," said Michael Tuberosa, who was part of Shapland's team from 1998-2001. "Yeah, sometimes maybe good stories didn't get out that could have, but the players had to feel like he always looking out for them. He always had the best interests of Georgetown in mind." Tuberosa, now an associate athletic director at Drexel, appreciated what he learned at Georgetown. "I think working for Shap really taught me how to handle difficult situations and those skills are something I took with me to my current position."
For Chartese (Dean) Burnett, her four years working alongside Shapland were formative in a highly visible media relations career that followed.
"I wasn't much into sports, but my father was a huge sports fan," said Burnett, a 1983 Georgetown graduate who joined the office in an administrative role in 1987. Two years later, she was given primary media authority for most of Georgetown's sports outside basketball, and was among the first women of color in such a leadership role nationwide.
"I learned from the ground up," Burnett said. "You wrote on such another level then, you did everything: stories for local papers, mailings for out of town papers, faxes, copies, collating, phoning in scores. It really taught me about the basics and the ability to write feature stories and pitch stories that media relations is all about...the basics really taught [me] how to build relationships with the media."
"Bill Shapland, Steve Hurlbut, Frank Rienzo, I learned from the best," said Burnett, who left Georgetown in 1991 to become assistant director of media relations for the NBA, followed by roles as assistant vice president for the NFL Players Association and later, the vice president for communications for the Washington Nationals. In 2009, she was named Sports Executive of the Year by the Greater Washington Sports Alliance.
"I would not have learned so much, so fast, at a smaller school," said Burnett, now an adjunct professor for Georgetown's graduate program in sports industry management. "I wouldn't have had it any other way."
Bill Shapland entered his 29th season in the sports information office in the fall of 2012, but ongoing health issues had taken its toll. Shapland could no longer attend road games and home games at Verizon Center were spent not along press row, but in a baseline seat alongside his friend and mentor, John Thompson.
Following the season, Shapland was hospitalized and died in April 2013 at the age of 57. From his unlikely introduction to sports information in August 1984, Shapland would cover a remarkable 945 basketball games for the Hoyas, the longest tenured SID in the history of the Big East Conference. He was once asked what Georgetown looks for in a recruit: "The player has to have a desire to succeed academically, not some kid that has to be convinced that it's important. He has to have a respect for authority...someone who doesn't need ticker-tape parades and doesn't need constant reinforcement all the time." The quote could well have applied to Shapland and his stalwart service to two generations of student-athletes and coaches.
"You go through life, you go through this job, and you come across unfortunately few people that you know, by their word and actions, unequivocally through good and bad, are going to be there for you - who are going to support you, have your back and throw themselves under the bus if necessary to protect our institution and to protect our program," said coach John Thompson III to the Washington Post. "Bill, beyond a shadow of a doubt, has been that for as long as I can remember. He has been at the forefront of Georgetown basketball. And we love him for that."

The singular role of a Sports Information Director at Georgetown had fallen out of favor by the mid-2000's, as individual staff were responsible for various sports coverage. In 2005, Georgetown named a new SID in Michael (Mex) Carey, a St. Bonaventure graduate who was previously the Associate Director for Athletic Communications at St. John's.
"My role at Georgetown has changed drastically during the eight years I've been on the Hilltop," he said. During my first few years at Georgetown, I was primarily responsible for football and men's lacrosse and assisted Bill Shapland with men's basketball. In the last three years, mainly since the trip to China in 2011, I have been the primary contact for the men's basketball team, while overseeing women's soccer in the Fall and baseball in the spring.
Following Shapland's death, Carey moved into the senior role.
"I moved into the role of Assistant Athletics Director for Communications and in just two months, my role has changed again," he said. While I am still overseeing the entire sports information operation, I'm also dealing with things on a much more administrative level. My day-to-day duties haven't changed, but I've found myself on the phone or in meetings for large portions of my day."
Another change reflects a subtle transition of the role of sports information at Georgetown. In recent years, the SID staff has recognized the ability to leverage its media skills not just for the press, but for its student-athletes. Whether their post-Georgetown careers are in professional sports or, more likely, a professional career, student-athletes are increasingly aware of the ability to conduct an interview, or how to present themselves to potential employers.
"I view my position as one of a teacher," Carey said. "While the student-athletes I work with have their teachers in the classroom, they have so many other people involved in their lives at Georgetown. Their coaches work with them on the field, the academic advisor works with them in school work, the trainers and strength coaches make sure they're prepared to be on the field and my staff works with them to prepare them for media inquiries, whether that is the Washington Post, ESPN or The HOYA or The Voice.
"In many ways, I try to tell student-athletes that the ways we help them prepare for interviews will be the same way they'll prepare for job interviews upon graduating. When I look at it from a broader perspective, we're all here to help these young men and women prepare for life after college."

Bill Shapland was once asked about his view of the role of a sports information department. "It's something that needs to be done consistently and with little visibility," he told the Georgetown Voice. But Shapland was also one of the first in the nation to extend the visibility of sports information in a revolutionary way.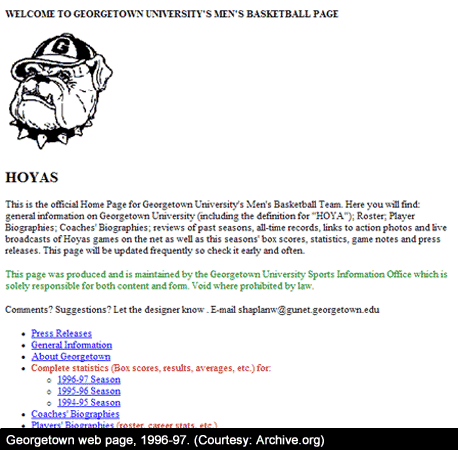 In 1995, at the dawn of the World Wide Web, Shapland set up a web site to post box scores and game recaps of men's basketball games in lieu of sending faxes or distributing copies through the mail. It became popular not only among reporters but among fans as well, and Georgetown was among the first schools in the nation to transition sports information to the online audience. Today, the web site now known as GUHoyas.com is reached by over 600,000 visits a month.
"In a discussion about what has changed most within this field, I think you have to start with the Internet," said Marchiony, now the associate athletic director for media relations at the University of Kansas. "SIDs used to have to worry about two news cycles - the morning and afternoon newspapers. Now there's only the morning paper, but SIDs must now concern themselves with creating and maintaining web sites, taking photos, creating videos, dealing with sports-talk radio (the downfall of Western Civilization as we knew it!), recruiting sites, Twitter feeds, Facebook and much more."
"The Internet has put many stresses on a SID for contracting out the university's sports website, coordinating stats and conference honors reports and digitalizing all the collections of stats for dozens upon dozens of men's and women's sports," said Moore. "It made everything that happened each day highly visible and important each day and moments after the event was completed. Yes, the Internet has changed everything."
"There are so many web sites that write stories, cover games, etc, it's hard to know which ones are legit or not," said Tuberosa. " Fifteen years ago, you knew USA Today, the Post, the Times, and the other locals were coming and who the contacts were. You had relationships with these people. Now, no one uses the phone, so the relationships in the business that used to be a really neat part of it aren't nearly as common as they used to be."
"When I started, there weren't computers and there wasn't an Internet," said Hurlbut. "We mailed press releases, used a telecopier (six minutes per page) to send game summaries and stats out after a game--nothing really strategic about what we did."
Today, the Internet is not only strategic, it's essential. That's a challenge Carey and his staff must deal with at every turn.
"So much has changed in the business from when I first started during the 1994-95 school year," Carey said. "Back then, our duties were to write stories and feed the scores and results to newspapers that covered the teams. Today, however, we're still doing the same thing, but our audience has changed. The place to get scores and information, outside of men's basketball, our primary sport at Georgetown, is our website or our Twitter feed.
"The drastic decrease in the number of newspapers that cover not only Georgetown, but college sports in general, has changed how we do things. The immediacy of the media in this day and age has forced us to change and our first instinct may not necessarily be the next day's Washington Post, but it is releasing information via our website or other forms of social media."
And if the Internet changed the job of a sports information director, the growth of social media has been even more disruptive.
"Social media has added a whole new dimension to the Internet, and the fact that media members - not to mention student-athletes - participate willingly and eagerly in social media makes it extremely difficult to manage the news in a manner that benefits the institution," said Marchiony. "All of it has made an SID's job infinitely more difficult than it used to be; by the way, it's also made it more difficult for the honest, veteran, "old-school" journalists who are being pushed by their editors to join the chaos. Being an SID now is really an around-the-clock job that's difficult to get away from for any length of time."
"Social media, whether it is Facebook or Twitter or other forms, has changed how we do things, and it's changed things for the student-athletes and coaches too," said Carey. "There are many more people watching them and what they do. When they put on that uniform or travel with a team, they are representing Georgetown. Interactions they have with people, whether it is media or fans or alumni, can shape how they are viewed in the public eye. The proliferation of social media has brought that into greater focus and can be both a positive and a negative.
"I do not, nor does my staff, discourage student-athletes and coaches from using social media, as long as it is used properly," Carey continued. "Our job is to educate them on the best way possible. Georgetown students are among the best in the country, both academically and athletically, but they also need to be college students too. There may be pitfalls with that, but the best way to learn is by experiencing life and seeing how you have to adjust."
From the days of the typewriter to the era of Twitter, sports information at Georgetown has been an ever-changing, ever-involving passion for those that have been a part of it. Today's sports information professionals can look back upon a tradition that has produced numerous writers and publishers, executives and entrepreneurs, all of whom contributed to the message and mission that Georgetown University athletics is all about.
Photo credits: Ye Domesday Booke (Schwagel, Rach, Prial, Williams), BilGilbert.com (Gilbert), Facebook (White), Georgetown media guides (Taylor, Moore, Connors, Blake, Marchiony, Hurlbut), and GUHoyas.com (Shapland, Carey).